<![if !vml]>
<![endif]>
On 14 July, a group of 15 of our colleagues from Allcargo set out to explore the old ruins of the famous Karnala fort in the outskirts of Mumbai. The idea was to get rid of the litter that the visitors throw around.
We congratulate and commend our colleagues who volunteered for Plogging. It depicts their belief that even a small step can make a difference.
<![if !vml]>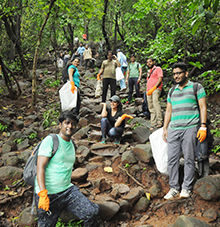 <![endif]>
Trekking is an age old favourite monsoon activity for Mumbaikars. Allcargo Greens advanced this activity to Plogging – an act of collecting garbage and trash while trekking. Not just a fun but also an extremely fulfilling activity.
<![if !vml]>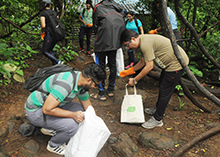 <![endif]>
The group started its climb at 10 am with carabiners and gloves to collect the trash. By the time of the descend at 3 pm, the group had collected 3 bags full of garbage. The group consisting of both first timers and avid trekkers did not hesitate to collect the waste, for that is the least we can do to save and protect our environment. The pedometer tracked 12000 steps – that is 12000 steps towards nurturing our nature. When it comes to unity Allcargo again showed the power of ONE, by staying together and reaching the finish line. Fellow trekkers appreciated us, when they saw our colleagues cleaning the way back.
<![if !vml]>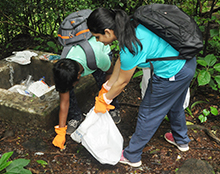 <![endif]>
As happy and content we may feel with this small achievement, it saddens to see how we exploit and take our surroundings for granted. We exploit the fruits of nature by littering around. If each one of us can stop this punishing act, we could make a huge difference.
<![if !vml]>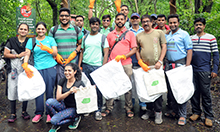 <![endif]>
Plogging is our first step towards bringing a mindset shift. Let us all take many more such steps to create a sustainable environment.