There has been tremendous improvement in air transport from the time the Wright brothers first flew an aircraft. Find out how air freight developed down the years and is today one of the most-preferred cargo transport modes.
Humble beginnings
The world has come a long way from the early 1900's when the first cargo flight took off in Dayton for Columbus, Ohio in the US. Those days, aircrafts were small and the cargo carried was of limited size and volume. There were not many takers for transporting goods by air as sea transport was considered far more reliable and inexpensive. Today, air freight is easily one of the fastest modes of transporting goods across continents.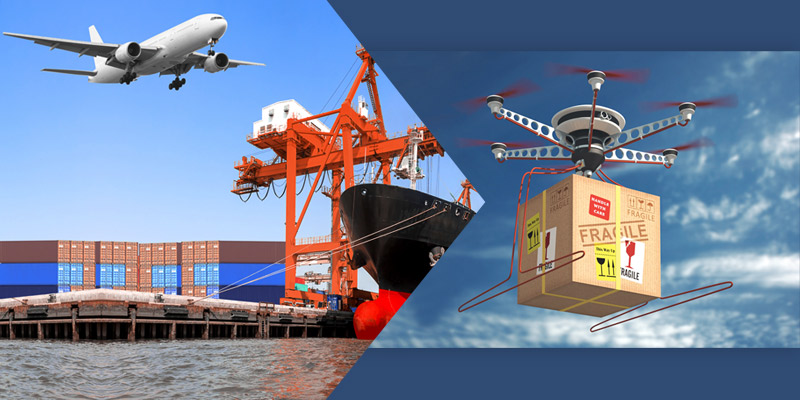 From Belly Cargo to full cargo freight
In the post-World-War-II era, some progress was made in developing air freight into a proper service. In 1968, Boeing launched its four-engine 747, the first aircraft capable of carrying full pallets of cargo in its cargo hold, thus introducing the world to cargo freight. Till then, cargo was transported as 'Belly Cargo'- a term used to describe cargo transport in a passenger flight in the spare volume section.
Rise in commercial air cargo in the 90's
Cargo emerged as a solid pillar of revenue for the airline industry in the 1990s. The catalysts for the renewed growth in the sector were the express parcel carriers, namely FedEx, DHL, TNT and UPS, and changes in practices in the manufacturing sector.
The Internet-generation era
The internet generation has spawned a new wave of cargo shipments by airways using technology that makes for more reliable and accessible transport. Most airlines now offer customers real-time flight status and booking and tracking options. In addition, the industry is adopting electronic procedures, such as the electronic airway bill, to reduce the amount of paper documentation accompanying each shipment and increasing the security and safety of the transportation.
Flying to newer heights today
Today, air freight is used for carrying goods for a variety of industries, chiefly chemical and pharmaceutical industries.These industries deal with specialized cargo that need to be transported within stringent deadlines. . These kinds of urgent deliveries can only be achieved with air freight. The speed at which a consignment can be sent by air is unmatched. No other mode of transport can measure up to it.
With personalized facilities like consignment tracking and booking and faster and bigger aircrafts, air freight has definitely come a long way from its humble beginnings. It is a preferred mode of transport for high-value and low-volume merchandise. For industries where speed of deliveries is paramount, air freight is the preferred option for delivering consignments. And Allcargo is the preferred partner because it makes air freight a
ffordable and accessible.